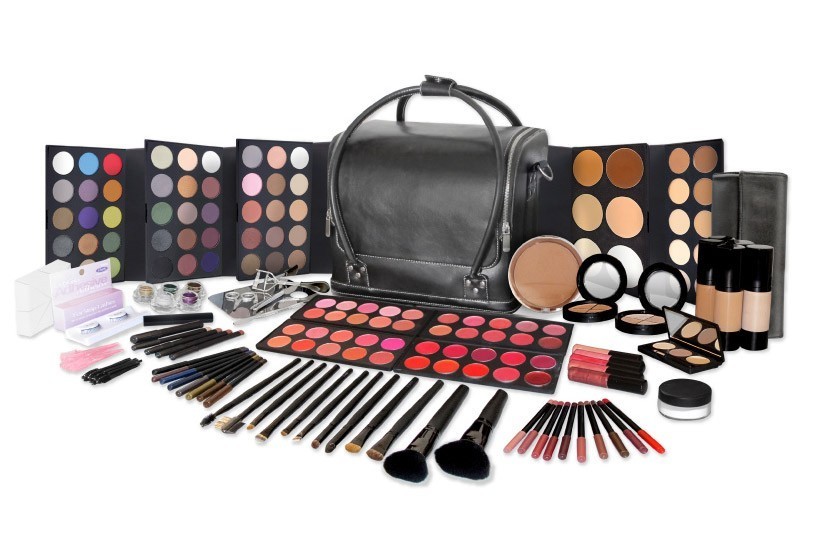 Bridal MakeUp Kit- To Add Beauty To The Bridal Look
Posted by Deeksha in Bridal Makeup Kit, Weddings
30
Sep
2015
Wedding day is an important and very special day in girl life. Her wedding day brings forth a woman's desire to look like a princess for a day. Make-up is an essential part of bridal Solah Shrigar. Bridal make-up add beauty to the bridal look. Achieving a flawless bridal beauty look starts with what kind of makeup you use. To put your best face forward, upgrade your makeup bag/kit well before the big day.
To help you find the best cosmetics for your wedding-day look and beyond, here is a complete list of all the products you would require to create those effortless looks.
Use the engagement period to create A Canvas
A woman should begin a daily beauty routine such as gentle cleansing, exfoliating and drinking water. Ideally, she should begin on the day of her engagement. These three practices best provides smooth, glowing skin that serves as a wonderful canvas on which to apply makeup.
Primer
This simple first step locks makeup in place. It provides easier application and longer endurance of foundation, it obsorbs oil and prevents foundation from becoming cakey.
Liquid Foundation
Evens skin tones and gives a smooth palette to begin applying other products. Too much glow can look shiny in photos. Try a matte foundation to stay picture-perfect all day. Brides with very fair complexions can choose foundation with a hint of pink. Use cosmetic sponge to apply liquid foundation.
Sponge
Use it to diffuse your base for a natural finish. Sponge provide lighter. More even coverage than do fingers and do not leave lines from fingerprints in the finished face.
Concealer
It gives light coverage for dark circles plus radiance to brighten. It is applied to hide blemishes, sores, bags and other marks on the face. Choose oil-free concealer with a slihtly yellow tone to cover red spots, pimples, or broken capillars on the face. Choose a richer, creamier concealer with a peachy tinge for the skin beneath the eyes.
Shimmery Pencil
Smudge it on the inner corners of your eyes to add subtle sparkle.
Lip Liner
Put it on before lipstick for more staying power.
Pressed Powder
Get an oil-free T-zone without cakiness.
Bottom-Lash Mascara
Softly darken your lower lashes for an extra hit of definition.
Blush
Brush it on the apples of your cheeks, and dust highlighting powder right on top. Adds dimension to your face and can add a youthful or sun-kissed look.
Satin-Finish Lipstick
You can't go wrong with a classic soft pink or peachy coral.
Blotting Papers
For on-the-go de-shining, these babies work like a charm.
Eyeliner
It is used on the edges of your eyelids closest to your eyes and just below the eyes. An eyeliner pencil works adequately for bridal makeup. Cake eyeliner works better and lasts longer than a pencil, but it requires practice if it has not before been used.
Brush
Applied with a brush, a "cake" formula looks soft and pretty. There are various essential brushes as well as soft synthetic brushes available for beauty make-up such as
Foundation & Concealer brush/ sponge
Powder/ blusher/ bronzer brush
Powder puff or cotton wool pad/ sponge
Eyebrow comb/ brushFlat eye shadow brush
Pointed tip, fluffy eye shadow brush
Eyeliner brush or angular brush
Eyelash curlers
Mascara
Lush lashes ensure your eyes stand out in photos. Unless a bride wants to use false eyelashes, mascara ranks high on the bridal makeup list. Long, dark and thick lashes create a beautiful frame that accentuates eyes and turns them into a lovely focal point.
Whitening Teeth
Bleaching kits and strips make whitening teeth at home an easy task and often produce whiter teeth in a short time. Take a advantage of the ease that home bleaching kits offer for a whiter, brighter smile on the big day.
Bridal makeup need not be the priciest on the market, but it should be oil free and long lasting when possible. A bride puts her best face forward when she uses makeup merely to enhance and accentuate her own, natural loveliness.