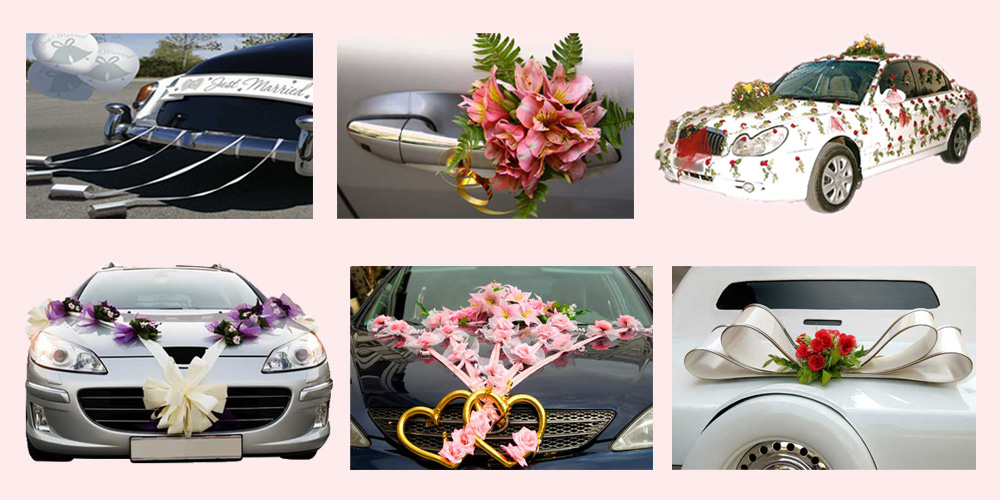 Unique, Affordable, Attractive Wedding Car Decoration Ideas
Posted by Deeksha in Post Wedding, Weddings
27
Aug
2015
Decoration is an important part of any wedding. A wedding ceremony includes various kinds of decorations and the wedding car decoration is one of the most significant aspect of it. Every groom try his best to décor wedding car with latest and delightful style & the brides are also desires that her initial wedding entrance & exit should be grand and outstanding.
Earlier the groom used to come to wed the bride on a horse, but nowadays Indian men prefer to travel by car. It's feel more classy and luxurious as well as comfortable. A paranymph with the maid of honor, groomsmen & bridesmaids, sneaks out of the wedding reception about halfway through to decorate the wedding car.
Simple flower decorations on car are all time favorite, but you can decorate the wedding car in so many ingenious ways these days. These wedding cars are adorned with stunning & beautiful original and flowers, streamers, net apparel with exclusive & chic vivacious vogues and floral corsages on the handles of wedding cars, large floral arrangement or wreath on the bonnet of the car.
We have several wedding getaway car decoration ideas & tips you are going to love.
Balloons
This is very economical and easy way to bedeck wedding vehicles. Get the balloons in simple red or white colours or match with wedding colours and also in round or heart-shaped. Tie those balloons all over the vehicle to grab attention. You can even stuff the balloons into the car and watch as the couples tries to get past all the balloons.
License Plates Frames
This is a amusing way to decorate the wedding car which become perpetual memento for the couple. There are some catchy License plates like "Just Married", "Mr & Mrs", "Happy Wedding", etc. which are available in novelty stores or online. We just need to attach or stick it in front of the couple's wedding car or in the rear window.
Pom Poms
Tiny plastic pom poms are another cheap and nice ways to decorate the wedding car. You can make your own pom poms & line the hood, bumper and windows with the pom poms. Select and use the wedding colours or contrasting colours for pom poms.
Silk or Fresh Flowers
Using silk flowers or fresh flowers are the most traditional way to decorate the wedding car. Silk flowers are long lasting and resist the elements better- especially the heat from the car. You can decorate a wedding car in many ways such as by featuring two large gold hearts tying at the front of the vehicle & the beautiful floral centerpiece on the bonnet, and also ballerina style bouquet fasten to the car handles, make a heart-shaped flower wreath, etc. A luxurious and alluring black stretch Limousine can be decorated with fuschia corsages and white ribbon.
Noise Makers
This is a unique and very noisy wedding car decorating idea. Tying noise makers such as tin, cans, plastic soda bottles, etc. to the bumper will surely bring attention to the new couple as they leave.
We always plan to keep things classy with just a few flowers or a 'Just Married' sign or go the extra mile by using garlands, pompoms, liquid chalk or glass markers, tulle & tons of glitter, etc.
Decorating the wedding car is definitely a fun and creative way to honor the new couple. Wedding car decorations add a lovely finishing touch to your wedding vehicle.