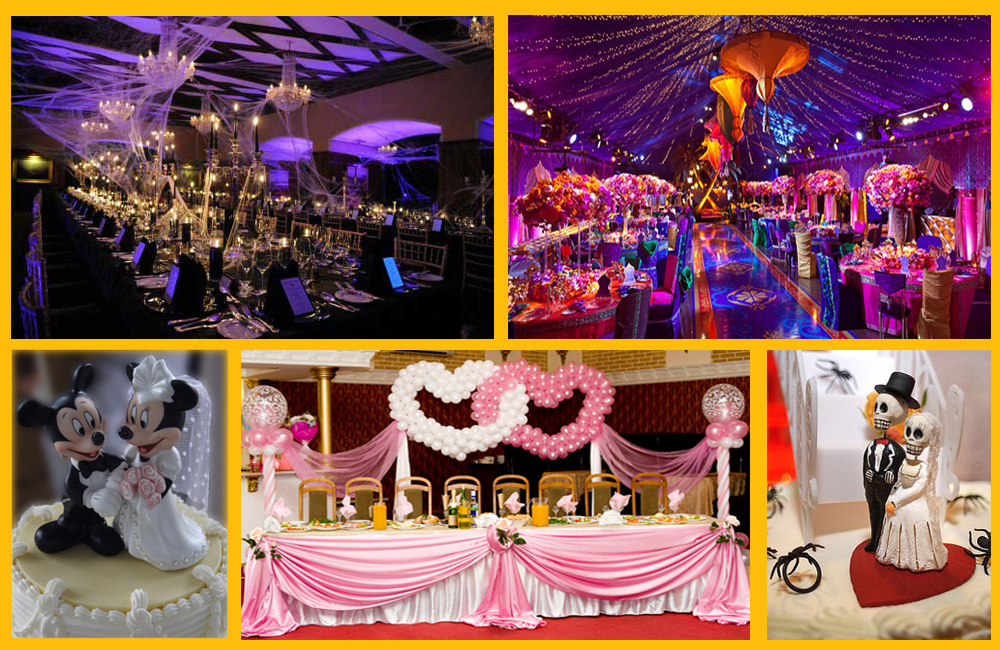 Creative & Unique Concepts of Themed Wedding
Posted by Deeksha in Wedding Themes, Weddings
27
May
2015
Wedding is a most special occasion for all. The wedding couple dream's to make their wedding day unique & unforgettable. Everyone wish to make it special in every single aspect in terms of balloons, florist supplies, decorations, wedding cake, etc. Theme wedding concept contributes to their dream. It is a new idea which gives a modern or creative touch to the wedding ceremony. Themed wedding is a different approach to celebrating your marriage.
Take a look of under-mentioned few Unique & Creative themes of weddings
Balloon Theme
Balloons are an everlasting classic décor that looks great in any situation or area. Balloon themed wedding is becoming very popular to have. It is one of the budgeted décor with an innovative idea. Balloon decoration can create by using many different shapes and colours, designs with balloons & it looks stunning.
Amazing effects which can be accomplished with fantastic arrangements of balloons such as; balloon drops, stage backdrops, outdoor & indoor promotional balloons, arches & columns to walk under as you entered the event or to frame the head table or dance floor and balloon center piece on each table.
Disney Theme
Walt Disney World is a most popular location for wedding. It is extremely beautiful & exclusively splendid idea of celebrating wedding ceremony. Disney wedding themes covers the stories like Mickey & Mini mouse, Beauty & the Beast, Cinderella, Little Mermaid, Snow white & the seven dwarfs, Aladdin, etc.
The wedding couple, their families, friends and guests can dress up like selected Disney character. Disney theme decoration includes wall & ceiling décor like castle, tangled tower or Cinderella pumpkin carriage as a centerpiece on each table, colourful lighting which gives a magical look to the event.
Wedding cakes can be designed using various sizes, colours, shapes & placing eatable chocolate cartoon characters or castle on top of it. Disney themed wedding will definitely turn the event into fabulous, joyful & coltish experience for everyone.
Halloween Theme
When we here about a word 'Halloween' immediately we assume for dark night, ghosts, witch, bats, monster, evil laughter, etc. Similarly Halloween themed wedding comprises of such scary stuff and effects.
Halloween theme includes ghoulish décor like floating candles, black lace & tulle, glitter-dipped skeletons, for meal food shaped like ghosts, cats, pumpkin, bats, spider cake and Dracula's blood pudding, sending delightful ominous invitation cards, spooky wedding ring, you can leave the ghost free standing decorations or you can thread a needle with some invisible thread & suspend the ghost from ceiling with scary background sounds or evil laughter, using spider web cloth, skulls as a centerpiece & spooky wine and spirits for table decoration.
Brides can wear gorgeous white dress like zombie costume and Groom dressed same as dead adult man costume and they can make a great entry in the ceremony with emerging from coffins. It is like some scary or horror activities becoming true simultaneously keeping hauntingly fun and elegant on most bewitching wedding ceremony.
All above themed wedding creative concepts will bring emotions along with joy, laughter & horrifying moments with some spooky themes in the ceremony or event. It will be unique & creative idea of celebrating a special day of wedding which will which will remain in their memory for lifetime.