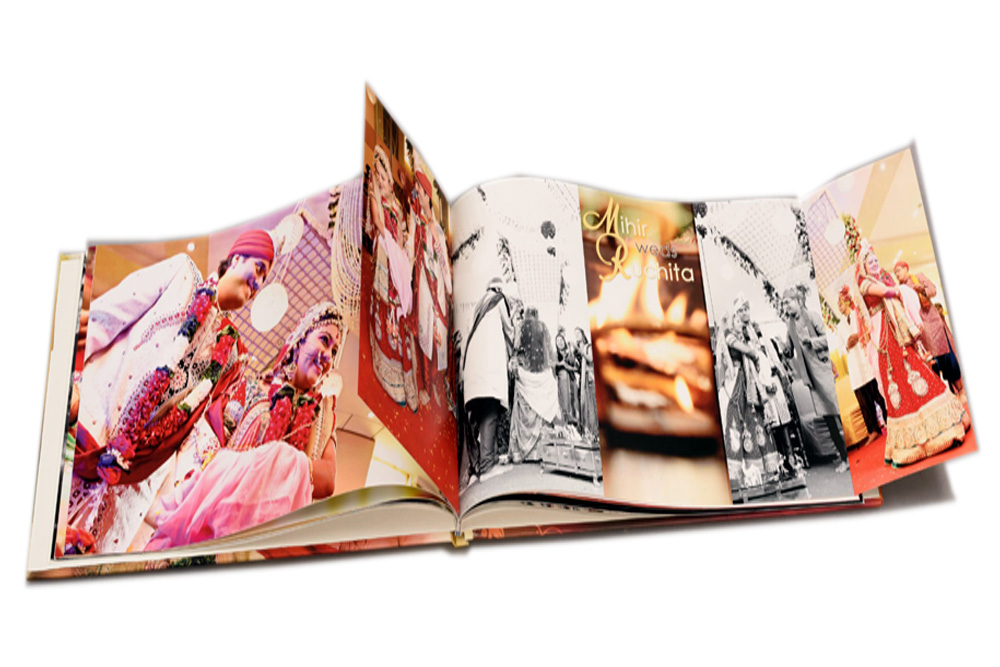 Different Types of Wedding Albums
Posted by Deeksha in Wedding Albums
25
May
2015
Wedding day is one of the important days in every individual life. To hold all the snapshots of ceremony with customize form, wedding album is a perfect option. Wedding albums are meant to uphold precious memories of wedding ceremony & related events. It comes in all shapes and sizes and printing options. There are various types of wedding photo albums in the market, including the hand crafted albums with leather, wood or metal finish.
Flush Mount Wedding Album
Flush mount albums are the advanced album style in the market. It is one of the most popular with brides and photographers which are crafted with "hard covers" and "board type" pages. The photos are dry mounted on cardboard to lay completely flat and extend across the entire page. All pages of flush mount album are border-less photographic print which includes one or more images.
Coffee Table Wedding Album
This type of wedding album is completely unique and modern that you will be proud to leave out on your coffee table to share with family & friends. The quality of coffee-table books depends on the type of paper being used. Coffee table wedding albums are usually over-sized, expensive, and an illustrated book suitable for displaying on a coffee table view & fondly browse regularly to memorize one of the most special day.
Soft Cover Album
Soft cover album is more casual alternative, available in different size and normally will have your good images on cover. It makes the great gift for wedding party or grandparents, but they are not a high quality album .If your budget is low you can use Hard Cover Albums.
Matted Albums
This album comes with thick heavy leather cover in a variety of colours option and have cameo opening for an image. Matted wedding photo albums come with recessed frames, in which each photo is hand-mounted. The photos are digitally or traditionally printed and can also be changed after completion of the album.
An album is a perfect format of photo holder which protects & display snapshots of each precious moment of wedding ceremony with emotions and personal touch. A beautifully hand-crafted wedding album is far more impressive than having them on your computer or Facebook pages.