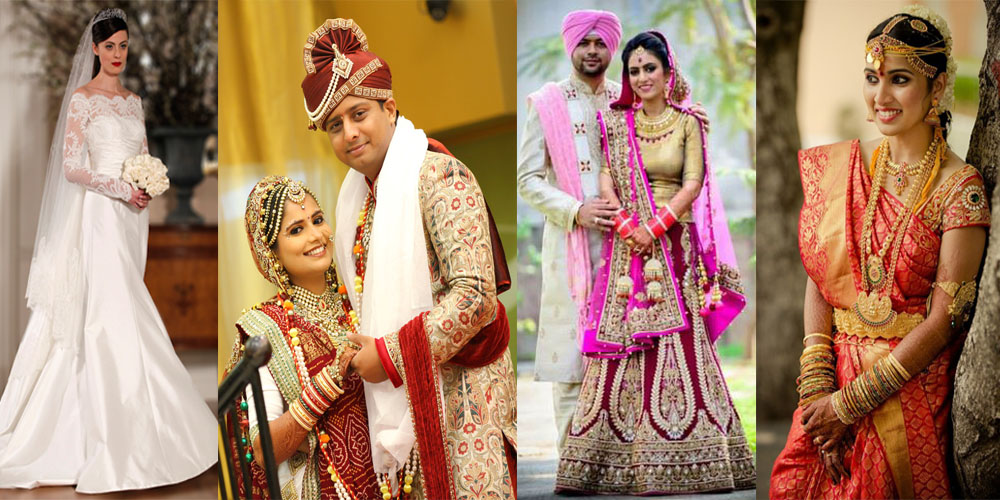 Dressing Combinations & Variations for Traditional Wedding Ceremonies in India
Posted by Deeksha in Weddings
16
Jun
2015
India is a multi-states country, where the people of different caste, creed & colour live together. The Indian wedding ceremony differs in traditions, rituals and customs which are followed by Indians of different religion is an exceptionally pleasant in all over the world.
Indian weddings of any state or religion are equally having their special importance. Moreover to wedding rituals; wedding attire, jewelry or ornaments, etc also varies from religion to religion. Wedding attire of each religion presents the beauty & also conveys the Indian history.
Wedding dresses like saree, dhoti, grown, sherwani, blazer and sehra, etc. specially designed for occasion gives charming, fascinating look to both bride & groom.
Have a look over varities of Indian wedding attires
Maharashtrian wedding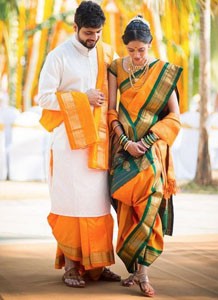 M
aharashtrian brides wedding saree typically are of the traditional 9yards (nauvari) or 6 yards (paithani), generally coloured in green and yellow or marigold with green or orange borders. The traditional nauvari saree is wrapped around each leg to create a "pant" instead of long skirt normally associated with saree. Bride looks glorious with Solah Shringar from head to toe.
A groom usually wears a dhoti kurta, which is the traditional male attire for Hindu ceremonies. It consists of long shirt (kurta) which is paired with loose-fitting, pleated pant called a dhoti. Wedding dhoti is of silk fabric in bright colour like purple, blue, magenta.
Sikh Wedding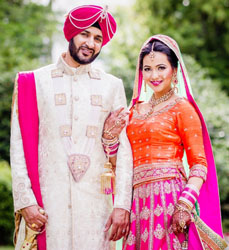 S
ikh wedding ceremony usually takes place in Gurudwara. Bride is dressed in traditional salwar and kameez or langa heavily embellished with salma sitara work with extensive use of gota kinari, which is consist of a blouse, loose trousers or long skirt and a heavy gold embroidered shawl or chunni or dupatta to cover the head. Jewelry includes heavy long necklaces like Ranihaar, rings, tika, gold bangles, red and white ivory bangles (chooda) & kaleere (golden dangles) etc. contributes to increase the beauty of bride.
The groom is dressed in traditional shirt or suit and trousers or chudidar pyjama & he wears a red or dark pink turban. Groom carries a coloured scarf called as pulla and a sword (kripan).
Catholic Wedding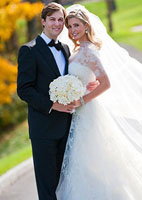 W
hite colour symbolizes chastity and purity. Traditionally the catholic bride wears a long white gown with train. She covers her head with a delicate veil and decks up her hair with white flowers. Brides are attended on by the bridal troupe- bridesmaids, flower girls, page boys and matron of honor at times.
Generally groom wears dark suits or tuxedos with a necktie and dress shoes during the wedding ceremony.
Gujarati Wedding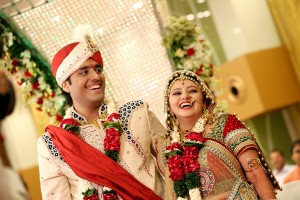 G
ujarati's consider red colour is the most auspicious colour for the bride. Traditional Gujarati wedding bridal saree is of two types- the Panetar, a white saree with red bandhini border & the Gharchola, traditional red bandhini saree crisscrossed with woven gold squares, enclosing bandhini motifs.
Grooms opt to wear traditional red, yellow & white churidar and kurta. Moreover they also prefer pale shades like cream, fawn Dhoti Kurta along with red coloured Bandhej dupatta around his neck.
South-Indian Wedding
S
outh Indian bride usually wears a Kanjeevaram silk saree in rich, deep colours like red, green, blue, with hints of gold accompanying lot of heavy gold jewelry. The jewelry made out of gold is considered to be auspicious by the South Indians. Along with silk saree, gold jewellery like kundan jewellery, maang tikka, armlet, etc. Enhance the beauty of bride.
The typical South Indian Groom in a mundu i.e. Also known as veshti in other languages.
Bengali Wedding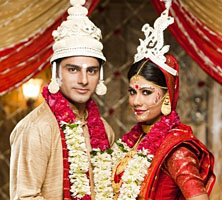 B
engali bride wears white or off-white saree with red border that brings out the beauty of the Bengali bride. Nowadays brides are experimenting with different colours like pink, orange & many other shades. Brides hands & feet are adorned with red liquid known as Alta. She wears exclusive traditional Bengali jewellery, like Tikka, Kaanpasha, Panchnari, Sapta Lahari, Hansuli, etc.
Bridegroom adorns himself in a silk dhoti & kurta along with a Jor (silk cloth draped around his neck) Apart from this, groom wears a hat (topor).
Marriage in India is the most important social occasion for any family. It is a mirror of regional colour that covers the basic Vedic rites. Indian Wedding varies in terms of religions, customs, traditions, rituals, clothing, accessories, colours etc; thus everyone can also feel "Unity in Diversity" in Indian outfits.