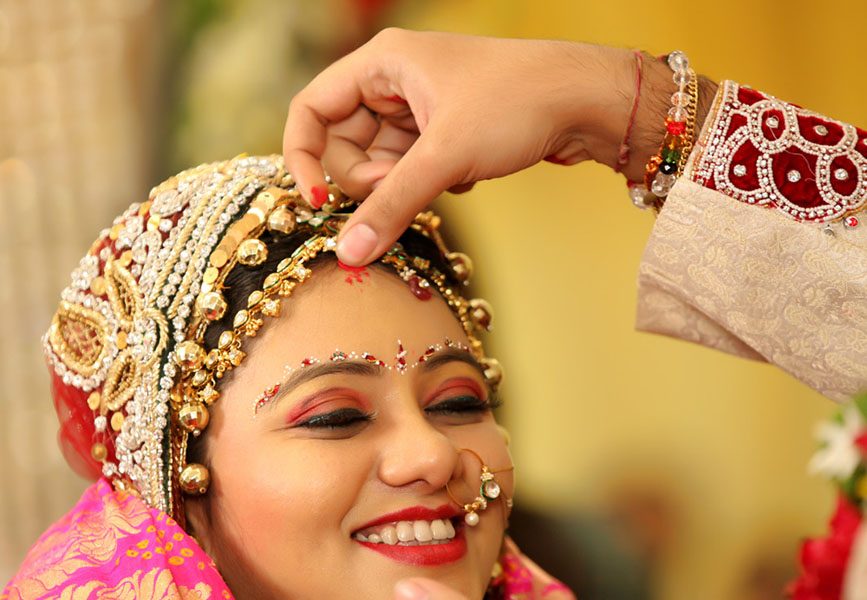 SINDOOR – Indicates the Nuptial Status of Indian Hindu Woman
Posted by Deeksha in Wedding Photography, Weddings
27
Jun
2015
Indian is a land of varied cultures, traditions, rituals and customs. Indians have a strong belief in the culture & traditions that they follow for centuries. Sindoor is one of the important Indian wedding rituals. It holds a lot of importance in Hindu communities.
Sindoor crowning the forehead of a Hindu woman begins with ceremony of sacred wedding. Sindoor is also known as Kumkum, made by grinding the dried turmeric to a powder and by adding few drops of lime to this yellow powder, which changes its hue to a bright red. Red colour is used in many customs allied with weddings & in reality the bride's 'Solah Shringar' is considered incomplete without it.
A sindoor symbolizes the marital status of the women. The groom adorns bride with a pinch of sindoor along the part of her hair (also called maang), thus accepting the woman as his wife for the next seven lives. This ritual is known as 'Sindoor-Dan'. It is said that, applying sindoor is an act of expressing a desire for a along life of husband live,
Red colour of sindoor emancipates power when it is applied on forehead, it symbolizes the energy of female divinity– Parvati & Sati. According to mythology the woman who applies sindoor at the parting of her hair is blessed by Goddess Parvati, and also protects her husband.
The use of sindoor by woman has been well documented & described in Harappan excavation, Baluchistans, epics and even in the Puranas. Even men, boys, girls and little children apply a dot of vermillion powder on their forehead when they visit a temple or attend some religious function.
Today many married woman's never prefer wearing sarees or any traditional outfits, they opt for jeans, trousers, skirts, etc; but you can still notify that these woman's donning a small red line of sindoor. It should be adorned by married woman all the times. Unmarried women and widows are exempted to use vermillion powder on their forehead.
The red cosmetic mark (Sindoor) immensely enhance female beauty and grace.
Rituals Beliefs about Sindoor
According to Hindu astrology, the house of Aries is on the forehead. The lord of Aries is Mars. Since the colour is Mars is red,thus it is believed to be auspicious. It is a sign of soubhagya or good fortune.

It is also a sign of female energy which helps to protect her husband from any calamity.

It has religious significance in North India, it is extremely compulsory to put sindoor during festivals like Sankranti, Navratri.
Physiological Beliefs about Sindoor
It is an interesting fact to know that applying sindoor which is prepared by mixing turmeric-lime with metal mercury, helps to controlling blood pressure and carnal desire. Hence sindoor should be applied upon the pituitary gland which is the centre to all our feelings.

Apply sindoor by married woman carries physiological significance too.